Jancis Robinson – United Kingdom
Tasting in beginning of January 2009 out of barrels - The Bottling was made end of January 2009 .


Dom Jean Tardy, Bas de Comme 2007 Nuits-St-Georges Rouge 16.5 Drink 2010-14
A little reduced on the nose. Sulphidey struck match notes. Sweetly oaky on the palate. Fresh, open and juicy. Already very smooth but needs air for the aroma to emerge. (JH)

Dom Jean Tardy, Boudots Premier Cru 2007 Nuits-St-Georges Rouge 16 Drink 2011-15
Slight smoky reduction. Pretty dry, moderate fruit but just a little bit lean and hard on the finish. (JH)

Dom Jean Tardy, Les Vigneux 2007 Vosne-Romanée 16.5 Drink 2011-14
Sweet slightly reduced dark fruit. Fresh, fine-grained, juicy and appealing in a lightish style. (JH)

Dom Jean Tardy, Chaumes Premier Cru 2007 Vosne-Romanée 17 Drink 2011-15
All these Tardy wines are a little reduced but that's fine at this stage, though it makes them harder to assess in terms of the aromas. In the mouth it is juicy and fesh and nicely aromatic. Long, fresh finish. (JH)

Dom Jean Tardy Grand Cru 2007 Echézeaux 17.5 Drink 2012-17
Smoky, slightly meaty - definitely smoked bacon - and a little bit roasted but also perfumed. Aromatic mid palate, intense dark fruit flavours and tight but fine-grained tannis. Long with attractive bite on the finish. (JH)
Dereck Smedley – Master of Wine From UK .
Bourgogne Aligoté 2007
The nose has all the crispness of apple and lime a vibrant freshness that also features on the palate. The fruit is overlaid with floral fragrances that to its charm. Sweeter fruit shows on the mid palate with an aromatic hint of cumin towards the back adding to the complexity.
91/100 2009-10
Bourgogne Passe Tout Grains 2007
The nose has some nice black fruit intermingling with fresher red. On the palate there is more red fruit in evidence, its freshness combined with slightly aggressive tannins give a firm feel to the mid palate. Right at the back there is blueberry and bramble coming through giving some richness on the finish.
88/100 2009-11
Fixin 2007 "La Place" 2007
Sweet bramble gives fleshiness on the nose balanced by some fresher underlying red cherry. The palate is fruit rich a weight of flavour that fleshes out the mid palate. Black fruits, bramble and bilberry intermingle with brighter mulberry all helping complexity. The flavours last well.
90/100 2009 (late) – 2013
Nuits-Saint-Georges "Aux Bas de Combe" Vieille Vignes 2007
Blackberry is very much in evidence with behind that some black cherry all refreshed by red fruited mulberry. There is a richer feel on the mid-palate the black fruit shows through well balanced by some freshness. The tightness on the finish shows its youth but there is a lot to show.
91/100 2011-15
Nuits-Saint-Georges 1er Cru "Les Boudots" 2007
The fruit on the nose is concentrated, all quite firm lots of black fruited bilberry. There is an attractive mix; ripe fruit backed by fresher firmer flavours all ensuring complexity. Layers of bilberry and black cherry are underpinned with mulberry and red cherry, a lovely mix of flavours. Ripeness is apparent right at the back, good weight yet freshness giving elegance.
92/100 2011-15
Vosne-Romanée "Vigneux" 2007
There is richness to the fruit mix on the nose. It is all there on the palate but at the moment it is very structured rather closing down the middle. Layers of fruit give interest sweet damson and sloe intermingling with mulberry and bilberry. Towards the back the tannins feel firm but ripe showing the potential.
92/100 2011-15
Vosne-Romanée 1er Cru "Les Chaumes" 2007
The nose is very tight with not a lot of fruit in evidence at the moment but the palate shows the potential. Black fruits tend to dominate, bilberry and sloe but behind these are some fresher mulberry and cherry. The tannin cage encircles the fruit at the moment but there is real power to the flavours and they will come through giving lots of complexity.
92/100 2012/17
Chambolle-Musigny "Les Athets" 2007
Although it is more red fruited on the nose there is lots of sweetness. The fruit has power, a lovely mix of flavours giving a feel of complexity brightened by some mulberry freshness. On the back palate the tannins feel firm yet ripe allowing fruit expression. There is richness yet a lovely racy elegance.
93/100 2012-18
Echézeaux Grand Cru "Les Freux" Vieille Vignes 2007
There is a lot happening on the nose, first red fruits then sweeter, richer black. The pattern is there on the palate mulberry and cherry seem to be dominant but ripe fleshy bramble shows backed by sloe and bilberry. The power of flavour enriches the mid palate, the tannins are firm yet they feel ripe giving a weight of fruit on the finish. It is a very stylish wine.
95/100 2012-18
Allen Meadows - USA - Burghound.com
2007 sur fût / out of barrels - 2006 en bouteille / in bottle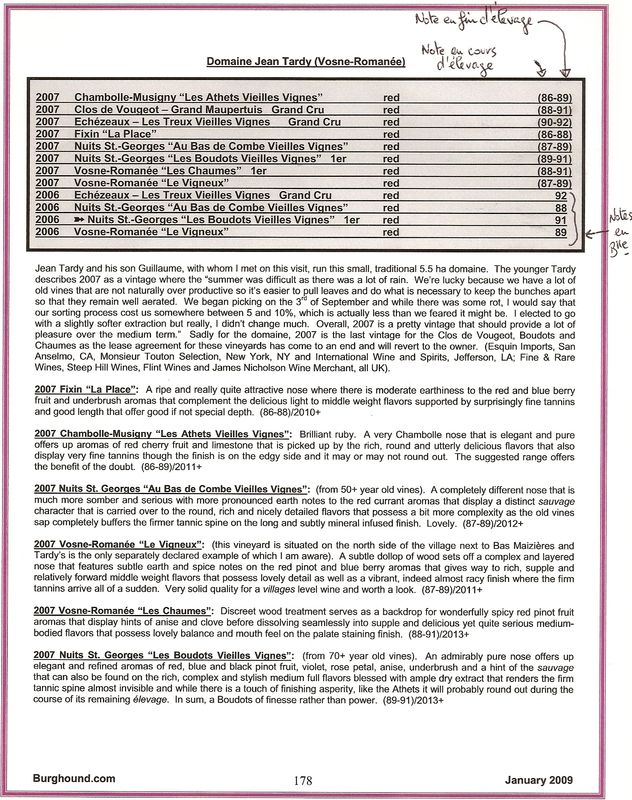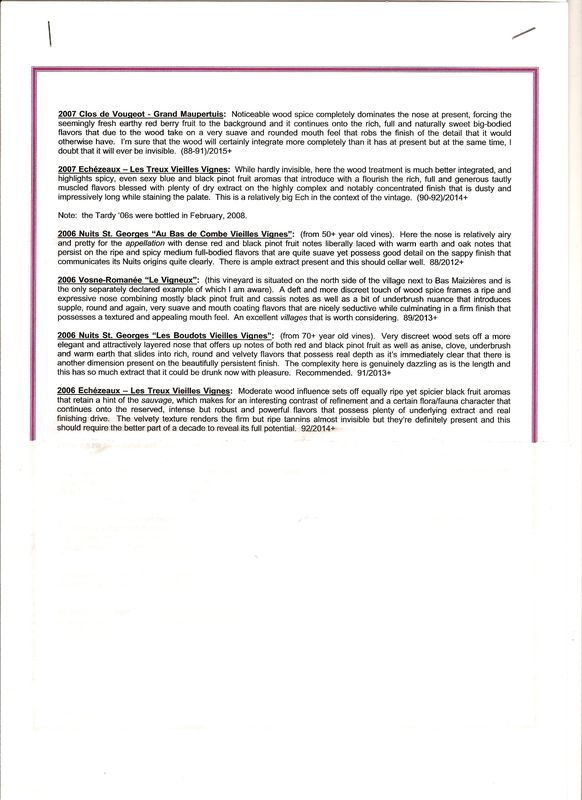 Real Wine Guide – Japon

-

Millésime 2007 sur fût / Out of barrels
Bourgogne Aligoté : 86+
Bourgogne Passetoutgrain : 85+
Fixin 'La Place' : 88+
Chambolle-Musigny 'les Athets' : 89+
Vosne-Romanée 'Vigneux' : 90
Nuits St Georges Vieille Vigne 'Bas De Combe' : 89+
Vosne-Romanée 1er Cru 'Les Chaumes' : 91+
Nuits St Georges 1er Cru Vieille Vigne 'Les Boudots' : 91+
Clos Vougeot Grd Cru 'Grand Maupertuis' : 93
Echézeaux Grd Cru 'Les Treux' : 93+